In the latest season of Black Mirror, the acclaimed British sci-fi television series about how technology can manipulate human lives, there is an episode called 'Arkangel' which paints a fearful picture of a possible 'cybermom'. Paranoid about her daughter's safety and determined to shield her from any alarming sight or incident, be it a barking dog or a bleeding classmate, Marie (Rosemarie DeWitt) signs up with a company which has devised an experimental cranial implant. It helps parents monitor a child's whereabouts and medical stats on a hand-held tablet which live-streams a child's vision. Any object or image that a parent may find upsetting or dangerous for the child can be pixelated with the flick of a touchscreen button. Even after her daughter crosses over into her teens, Marie is unable to resist the urge to see what her daughter sees and micromanage her eyesight. That Marie and her daughter will clash over this twisted piece of technology is inevitable. The episode, although highly contrived and unthinkable, imparts a lesson in how technology can be misunderstood and misused by over-anxious parents.
But while a concerned parent will not logically succumb to extreme bouts of tech-horror, there is much talk of parental supervision for the country's new generation. According to a report, Internet in India 2016, compiled by the Internet and Mobile Association of India and market research firm IMRB, the internet user base is supposed to have hit 450 to 465 million in June 2017. The most prolific daily users constitute the younger generation which includes school-and college-going children who surf the internet for social networking, entertainment and information. Mobile phones, laptops and tablets have only amplified internet access. This has come with its own set of risks. There is cyber-bullying in the guise of emotional harassment, defamation and social exclusion, online sexual offences with the circulation of sexually abusive content and child pornography. There is 'sextortion', ideological indoctrination, identity theft, phishing, gambling, drug-trafficking and violent gaming. The horrific "Adibasi girl MMS" incident from Birbhum in West Bengal; the January 2016 case involving two minors and six youth who used videos of a gang rape in Fort Kochi for blackmailing; the infamous MMS scandal of Delhi Public School, R.K. Puram, or the panic set off by the Blue Whale Challenge; examples of online behaviour gone mad are aplenty. Child safety online is gathering salience and the latest example of a probable solution is seen in a cybermom. This is no Instagram hashtag from a happy teenager of a tech-savvy home. It might just become a policy-driven buzzword.
Ranchi-based Cyber Peace Foundation, a non-partisan think tank on cyber security, has held multiple workshops with mothers from schools in Ranchi and Telangana to train an army of cybermoms since 2016. Out of the 2,000 mothers trained so far, 600 mothers trained in 12 sessions from October 2017 were funded by Google. Currently the module on cybermoms has elicited support from the National Commission for Protection of Child Rights, National Commission for Women and IPS Officers' Wives' Association. A three-tier training approach—basic, intermediate and advanced—addresses the difference in levels of tech awareness in mothers and accordingly introduces them to the intricacies of cyber conduct. Mothers who may not know how to use a smartphone fall under basic. A mother who use simple apps like WhatsApp is taught web functions like uploading, downloading and posting updates on social media and fall under the category of intermediate. But the advanced-level learners, the ones who are active social media users, are taught how to embed HTML and JavaScript applications and basic surveillance techniques. Mothers are familiarised with millennial codes and crypts on the web: 'Bruh' is bro, 'squad' is group of friends, 'curve' is to reject someone romantically, 'MLIS' is my life is shit, 'PAW' is parents are watching, 'FoMO' is fear of missing out, 'TDTM' is talk dirty to me, 'Netflix and Chill' is an excuse to make out, 'smash' is to indulge in a casual hook-up, '9' for parents watching and '99' for parents gone.
But what about differentiating between cyber parenting and intrusion of privacy?
"We specifically highlight how it is impossible to know each and every activity of the child," says Vineet Kumar, founder and president of Cyber Peace Foundation. "It is only through informed choices, honest communication, clear rules and policies, and efficient dialogue that they can actually ensure their child's safety." He recognises the colliding impulses: parental anxiety and a child's sense of selfhood. "Every parent wants to know how to track and know their child's activities," says Kumar. "Either they want a magic app to do it for them or they want some technology to protect their child from harmful content. At this stage, it sometimes does become a little dicey to impose or promote cyber parenting."
Piyali Roy is a 39-year-old homemaker from Ranchi and is a mother of two boys, four and eight years old. She believes the concept of cybermom is quite progressive, especially for non-working women who spend more time with their kids at home. A computer applications graduate, she could just as well serve as an example for a cybermom—both her sons already spend a lot of time on wireless devices like iPads and cell phones. She proudly exclaims that her younger one is a "YouTube-pro". Roy and her sons constantly exchange notes on videos that are shared on the phone and the web. "Once my eight-year-old alerted me to a WhatsApp video of a daughter-in-law ill-treating her mother-in-law," says Roy. "One time on Facebook, I made sure to point out how some of these kidnapping videos floating online are not to be taken seriously. After the workshop on cybermoms, I always try to act like a friend who is sharing information and keep an eye on what my kids are reading on the net." At the cybermom workshop, they even gave her a lowdown on dating apps like Tinder. "My elder son does not need to know about Tinder, but he might come to know from the internet. So it is good that I know about it," says Roy whose eight-year-old has a phone of his own with an active WhatsApp account. She does not think there is any end to cyber-parenting, "Technology is constantly evolving and we as parents have to constantly keep upgrading ourselves," says Roy. "And we need to tell them in a very friendly way the logic behind what is good and bad on the internet."
In an era where toddlers are growing up as cybernauts, child psychologists and therapists are grappling with questions like how to teach children to become more emotionally intelligent or how to advise parents not to judge, or what is the optimum level of internet exposure for children. Anindita Mishra, McAfee's Cybermum in India,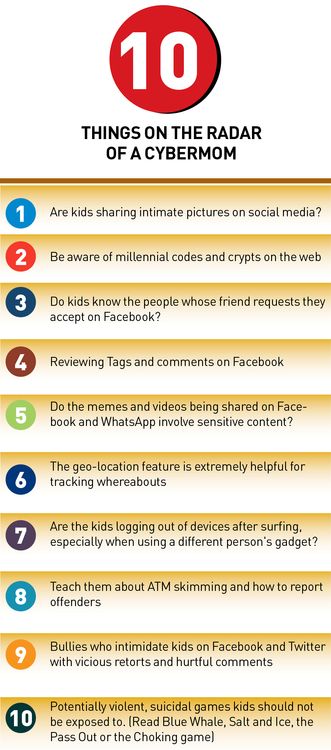 "evangelises" online safety for kids and families through her blog, Twitter and Facebook profiles. Her parting words at a recent conference on 'Creating a safe Internet for our Children' were clean and simple: "Mind it", implying parents need to be much more mindful of their children's online engagement.
But for Rajni, a homemaker from Ranchi, Mishra's advice may seem a tad redundant. Rajni enjoyed Kumar's cybermom training workshop. Although she created a Facebook profile right after the session, she did not quite take to it. "I think I like Instagram more. And thank god for the workshop, I can shop online now," she says chirpily. Rajni has two daughters, one in the eighth grade and the other in the twelfth. They have laptops and a lone iPad from a brother who is no more. Rajni hasn't given them any phones yet. "No… not at this point," she says. Ask her about online harassment and child safety, she immediately says, "No one can ever harass my kids. I have taught them everything they need to know from the start. I am their mother."
While the cybermom initiative is commendable in so far as it directly addresses the gender divide in certain parts of the country with respect to internet inclusion and helps stay-at-home mothers kickstart their digital lives, its effectiveness in teaching cyber hygiene to children remains limited at best. And the notion that "aware women equals aware families" might be a short-sighted way of handling cyber security for children. Modern parenting is predicated on equal responsibilities.
Some names have been changed.
Source: https://www.theweek.in/health/more/2018/04/21/teach-mothers-to-combat-child-abuse-on-the-web.html